Gwaii Haanas- Queen Charlotte Islands
"Canadian Galapagos" and Haida Homeland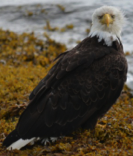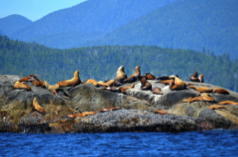 Known to the Haida as Gwaii Haanas, "Place of Wonder"- the South Moresby Archipelago contains some 130 spectacular islands. The indigenous species found in these isolated areas have earned the Queen Charlotte the reputation of "Canada's Galapagos".
This unique island group offers lush ancient rain forest, alpine hills, and one of the richest intertidal areas in the world found at Burnaby Narrows. We will visit hot spring island overlooking the San Cristobal alpine mountains, view abundant wildlife from the largest black bear in the world, to peregrine falcons to the graceful phalaropes, and increased sightings of Humpback and Orca whales.
Homeland to the Haida People for thousands of years, today Gwaii Haanas offers a glimpse into the past and reveals the history of a rich and proud culture. We will visit all major village sites including the World Heritage site at Skung Gwaii (Ninstint), where the world's finest collection of totem poles still stand.  
               DOWNLOAD TRIP DETAILS       --      DOWNLOAD GENERAL TRIP INFORMATION
Great Bear Rainforest
BC Central Coast: Bears, Whales, and Totem Poles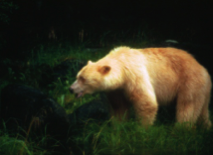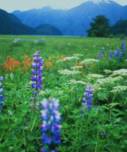 The Inside Passage, the sheltered waters between Vancouver Island and Alaska's Panhandle, is becoming well known as the Great Bear Rainforest, and reputed to be one of the most scenic coastlines in the world. We journey into deep fjords, bays and inlets surrounded by lush coastal rainforest, and snowy mountain peaks.
These incredibly rich waters nurture a wide variety and abundance of wildlife. We will visit the habitat of the rare Kermode bear (Spirit Bear), explore the home of the White sided dolphins and Orca whale, alongside the hundreds of sea birds nesting along these shores.
We will also have the opportunities to visit and study the heritage sites of the Heiltsuk, Kitasoo, and Haisla people who have lived along this coast for thousands of years.
               DOWNLOAD TRIP DETAILS       --      DOWNLOAD GENERAL TRIP INFORMATION